BODY TYPES: HOW TO TRAIN & DIET FOR YOUR BODY TYPE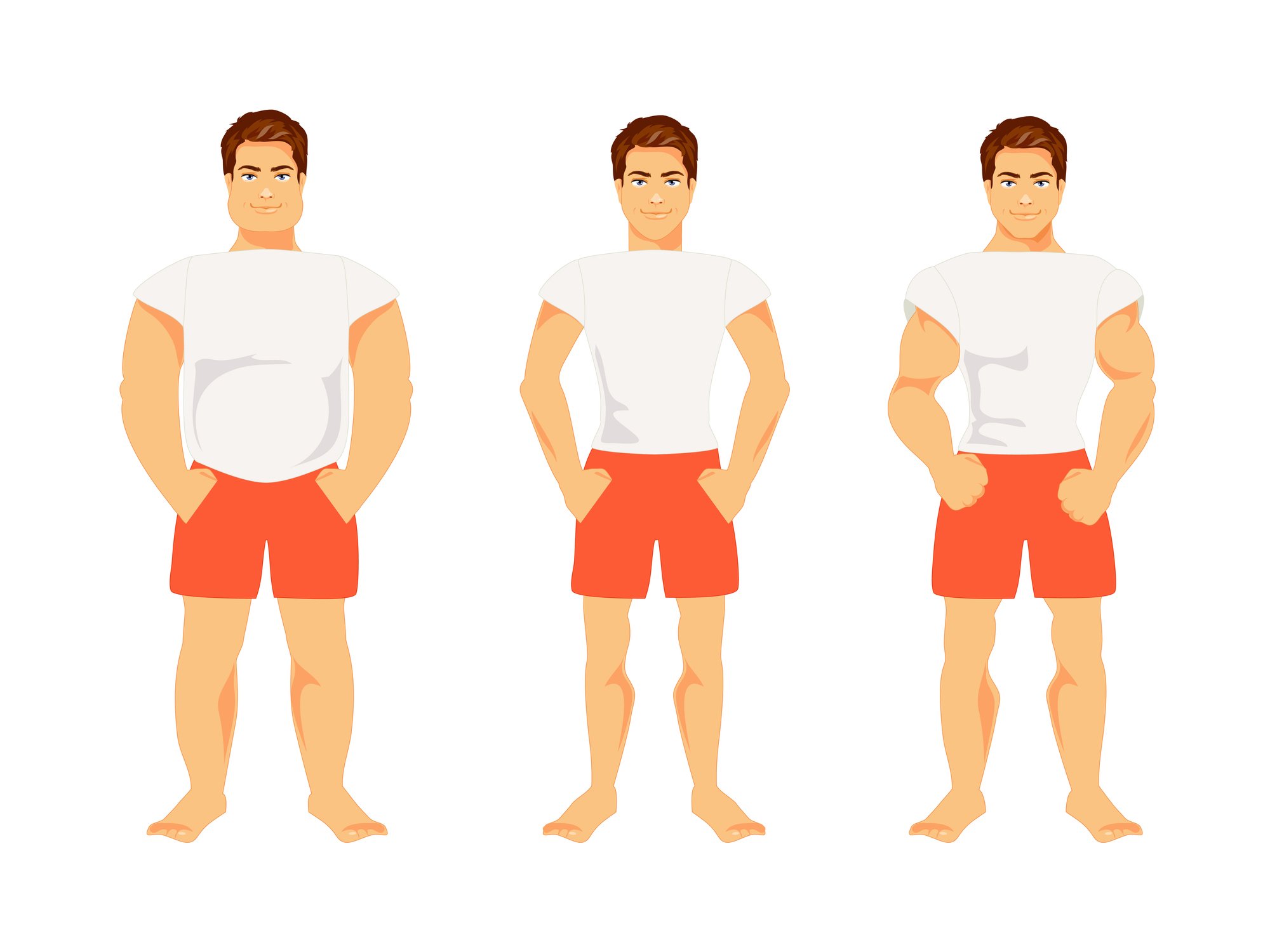 Do you have trouble losing body fat, yet seem to gain it after even the smallest slip up with your diet? Or does it feel like you can eat for days without gaining an ounce? It could have something to do with your current body type. But is it really that simple?
Let's explore them more in depth and analyze how they relate to overall body composition.
You can also find more information about this topic (and many others like it) within ournutrition online  classes.
WHAT IS BODY TYPE?
Body type, or somatotype, refers to the idea that there are three generalized body compositions that people are predetermined to have. The concept was theorized by Dr. W.H. Sheldon back in the early 1940s, naming the three somatotypes endomorph, mesomorph, and ectomorph.
It was originally believed that a person's somatotype was unchangeable, and that certain physiological and psychological characteristics were even determined by whichever one a person aligns to.
According to Sheldon, endomorphs have bodies that are always rounded and soft, mesomorphs are always square and muscular, and ectomorphs are always thin and fine-boned.
He theorized that these body types directly influenced a person's personality, and the names were chosen because he believed the predominate traits of each somatotype were set in stone, derived from pre-birth preferential development of either the endodermal, mesodermal, or ectodermal embryonic layers.
SOMATOTYPE THEORY, DEBUNKED
Let's take a deeper look at how he classified each one:
ENDOMORPH
Relative predominance of soft roundness throughout various regions of the body.
Digestive viscera are more massive and relatively dominate bodily economy.
 Have a more relaxed, comfortable, and extroverted personality.
MESOMORPH
Relative predominance of muscle, bone, and connective tissue that dominates bodily economy.
Heavy, hard, and rectangular in outline.
Have a more active, dynamic, assertive, and aggressive personality.
ECTOMORPH
Relative predominance of linearity and fragility
Greatest skin surface area relative to body mass causes greater sensory exposure
Have a more introverted, thoughtful, inhibited, and sensitive personality.
Some notions of Sheldon's theory have held up over time, providing the foundation for more accepted applications of somatotyping, but much of it has not.
The theory that personality is determined by body composition has been wholly abandoned by the psychological community. Additionally, we know that no one is hopelessly predetermined to either be fat, muscular, or thin as a lifelong consequence of prenatal development.
What makes our bodies what they are is an absolutely vast array of environmental and social influences, genetic variations, geographic locations, and personal decisions across the entire lifespan.
THE BODY TYPE SPECTRUM
So then why are we even discussing this topic? Because while the notion of a predetermined body composition looks far-fetched through a 21st century lens, many of the physiological markers and observations associated with each somatotype do actually exist in the greater population.
However, the modern understanding is flipped from Sheldon's original concept; it's our physiological characteristics that determine the current somatotype, not the somatotype that determines our collective physiologies.
No one exists within purely one somatotype; instead, we are all constantly in flux and fall uniquely on a spectrum somewhere between all three.
YOUR BODY TYPE IS NOT A LIFE SENTENCE
As they are understood and accepted today, body types reflect a generalized picture of how a person's physiology is functioning in their current state. The observable somatotype represents the current sum of their physical, dietary, and lifestyle choices up to that point in time, combined with a variety of uncontrollable factors influenced by both genetics and the surrounding environment.
For example, at one extreme end of the spectrum, a person who has easy access to high-quality food, makes habitually healthy diet choices, is free of chronic disease, and consistently trains at progressively higher intensities will always have a more functional, muscular, and leaner body composition. On the flip side, someone who always sits all day and eats a lots of excess calories from junk food will undoubtedly develop the "soft roundness" stated in Sheldon's original classification of endomorphs.
But remember, a body type is not a life sentence. If it were, personal trainers, online health coaches, and nutrition coaches would all be out of jobs. The fitness industry, at its core, is all about helping people learn to use tools they can control (i.e., improved lifestyle, diet, and exercise techniques) to overcome challenges presented by genetic and environmental factors that they otherwise have no agency over.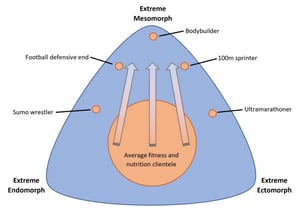 Body type will shift based on lifestyle, activity, and diet modifications . Someone on the DASH diet will have a different composition than someone who doesn't have a diet preference.
This notion is made clear when looking at average physiques of elite athletes in different sports, where consistent training and diet standards lead to similar average body compositions grouped across the somatotype spectrum.